Detected were currently around 100 pulsars, but seems this is close to maximum possible with my system.
More bandwidth is the only possible optimization what can be done, but QRM does limit this here.
Used Software Tempo & Murmur & extern OE5JFL with presto
Update June 2021 S/N Theory was corrected with background temp
Update sept 2021: in most cases the 10MHz S/N better, but there are several cases where it is vice versa. So qrm seems to be a big factor, but there are not many possibilities to optimize.
The 10MHz bandwidth I checked with sun noise and as expected at the ends of the band it drops.
The SWR is as well not 100% over the full bandwidth but acceptable:
<![if !vml]>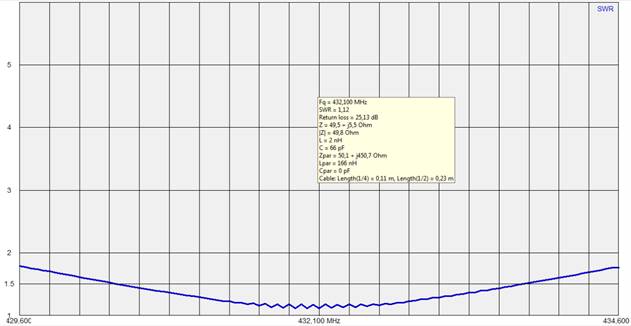 <![endif]>
The gain is also very good over the frequency:
<![if !vml]>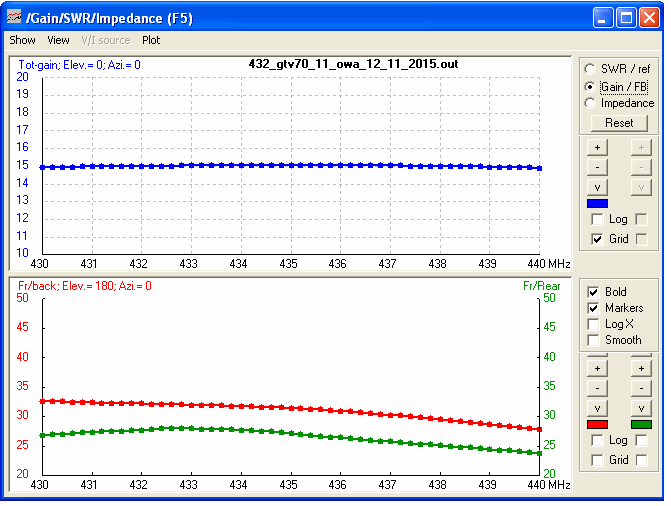 <![endif]>
Measured sun noise at the 10MHz airspy is:
| | |
| --- | --- |
| QRG/MHz | sun/dB |
| 428,5 | 17,5 |
| 429,5 | 18 |
| 430,5 | 19 |
| 431,5 | 19 |
| 432,5 | 20 |
| 433,5 | 19,5 |
| 434,5 | 18,5 |
| 435,5 | 18,5 |
| 436,5 | 17,5 |
| 437,5 | 17 |
| 438,5 | 17,5 |
Compared with the 2,2MHz RTL dongle (same time)
| | |
| --- | --- |
| QRG/MHz | sun/dB |
| 430,5 | 21,9 |
| 431,5 | 21,5 |
| 432,5 | 20,9 |
The absolute values are not 100% but relative seems like room for optimization
Name of Pulsar

S/N # theory

Measured S/N

Date of first detection

Recording time

2nd test 6h and 2,2MHz BW

S/N

2nd Test 6h and 10MHz BW

S/N

Pictures & Files

B0031-07

16,4

5,1

2021 Aug 11th

6h

B0136+57

13,2

9,5

Sept 2nd 2020

5h

B0138+59

14,5

10,1

June 16th 2020

3h

B0148-06

10,7

6,3

July 6th 2020 & more

3h

B0149-16

16,7

6,0

February 5th 2021

6h

B0301+19

15,6

8,1

October 21st 2020

5h

B0320+39

19,5

7,9

June 29th 2020

3h

11,5

9

B0329+54

740,7

111

May 4th 2020

Strongest!!

2h

B0301+19

15,6

8

October 20th 2020

5h

B0355+54

9,7

6,5

May 16th 2020

1h

12,4

28,9

B0450+55

13,8

7,0

May 16th 2020

1h

B0450-18

17,3

12,3

May 16th 2020

1h

B0525+21

14,9

5,4

May 16th 2020

2h

6,4

3,9

B0531+21

120,1

10,6

May 6th 2020

3h

4,4

5,4

B0540+23

13,4

8

July 6th 2020

3h

B0559-05

11,3

5,9

January 25th 2021

6h

B0611+22

18,7

8,4

Sept 3rd 2020

5h

B0626+24

15,5

12,8

July 17th 2020

3h

B0628-28

70,2

12

July 15th 2020

3h

B0727-18

10,9

4,6*

July 29st 2021

6h

B0740-28

79,9

11

July 15th 2020

1h

B0809+74

28

6,9

May 11th 2020

1h

14

8

B0818-13

34,8

8,3

May 12th 2020

1h

38

54

B0820+02

21,2

7

Sept 5th 2020

5h

B0823+26

33,2

17,5

May 11th 2020

1h

B0834+06

30,3

22,5

April 20th 2020

1h

B0906-17

12,7

6,2

May 3rd 2021

6h

B0919+06

22,3

5,2

May 16th 2020

1h

8,6

11

B0942-13

25,2

18,9

august 4th 2020

5h

B0950+08

100,5

38

April 25th 2020

1h

46

80

B1039-19

11,6

7,8

July 18th 2021

6h

B1112+50

14

7,6

January 19th 2021

6h

B1133+16

174,5

35

April 25th 2020

1h

40

40

B1237+25

27,5

7,7

May 11th 2020

1h

11

8

B1254-10

12,9

6,3*

July 30th 2021

6h

B1508+55

42,5

12,3

May 6th 2020

1h

30

49

B1540-06

30,3

6,0

June 22nd 2020

3h

9

12

B1541+09

20

4,6

June 28th 2020

3h

B1600-27

12,9

5,6

May 15th 2021

6h

B1604-00

25,1

10

June 23rd 2020

3h

5

7,7

B1642-03

165

85

April 24th 2020

1h

154

252

B1706-16

25,3

6

June 25th 2020

3h

23,2

33,5

B1717-16

12,4

7,1

July 21s 2021

6h

B1718-32

20,7

6

November 2nd 2020

4h

B1732-07

11

8,9

November 21st 2020

6h

B1737+13

10,1

7,6

January 16th 2021

6h

B1738-08

10,8

9,5

November 17th 2020

6h

B1742-30

13,8

4,0

January 26th 2021

4h

B1745-12

10,6

5,3

May 19th 2021

6h

B1749-28

262,9

95

July 14th 2020

3h

B1758-03

6

4,9

May 13th 2021

6h

B1804-08

12,2

10,6

August 3rd 2020

5h

B1818-04

36,6

19,9

June 20th 2020

3h

40

50,6

B1819-22

5,8

7,3

November 25th 2020

5h

B1821-19

34

7,2

August 8th 2020

5h

B1821+05

14,3

9

may 16th 2021

6h

B1822-09

14,3

8,2

July 17th 2020

3h

B1826-17

17,2

5,2

July 15th 2021

6h

B1831-03

32,8

5,5

July 8th 2020

3h

B1831-04

<6

4,4

August7th 2020

My weakest so far

5h

B1834-10

20,6

7

July 22nd 2020

5h

B1839+09

7,9

4,5

May 10th 2021

6h

B1839+56

15,1

5

November 24th 2020

6h

B1842+14

10,1

6,5

May 6th 2021

6h

B1844-04

12,4

6

July 10th 2020

3h

B1845-01

19,9

7

August 6th 2020

5h

B1857-26

25

5,2

August 4th 2020

5h

B1859+03

42,3

4,5

June 21st 2020

3h

3

3

B1900+01

21,4

9,8

August 2nd 2020

5h

B1905+39

9,2

7,1

January 25th 2021

6h

B1907-03

9,5

7,7

November 13th 2020

6h

B1907+10

14,9

10,5

July 15th 2020

3h

B1911-04

32,4

20

June 15th 2020

2h

B1914+09

5

5,3

May 10th 2021

6h

B1915+13

15,5

7,0

July 8th 2020

5h

B1918+19

9,8

5,7

August 5th 2020

5h

B1919+21

18

21,2

June 27th 2020

3h

28

33,8

B1920+21

16,7

5,8

June 27th 2020

3h

B1929+10

49

18,5

May 1st 2020

1h

61

119,5

B1929+20

11,4

5,3

Aug 2nd 2020

6h

B1933+16

58,2

42

May 1st 2020

1h

53

102

B1944+17

13,1

6,4

July 13th 2020

3h

B1946+35

22,7

12

May 6th 2020

1h

28

31

B1953+50

14

11,0

August 4th 2020

5h

B2000+40

16,5

5,0

June 15th 2020

3h

4,6 / 4,1

4,0 / 7,1

B2002+31

6

6,2

January 11th 2021

6h

B2016+28

59,5

56

April 30th 2020

1h

24

97

B2020+28

11,7

17,8

June 10th 2020

2h

18

33

B2021+51

28,7

3,9

June 15th 2020

2h

22

31

B2027+37

8,4

6,3

January 15th 2020

6h

B2043-04

18,2

10

November 23rd 2020

6h

B2044+15

12,6

5,6

January 17th 2020

6h

B2045-16

123

13,1

June 20th 2020

3h

19

14

B2053+63

11

6,1

October 29th 2020

6h

B2110+27

15,4

12,4

November 12th 2020

6h

B2111+46

33,1

8,7

May 1st 2020

1h

13

13

B2148+63

11,3

10,7

June 30th 2020

3h

B2154+40

23,7

11,4

May 12th 2020

1h

12

11

B2217+47

34

36

May 2nd 2020

1h

48

37

B2255+58

9

7,7

July 7th 2020

3h

B2310+42

22,9

7,6

May 12th 2020

1h

20

28

B2319+60

6,8

8,3

July 3rd 2020

4h

B2303+30

22

8,0

August 31st 2020

5h

B2315+21

14,1

7,99

January 12th 2021

6h

B2327-20

65,2

15,2

August 6th 2020

5h

B2351+61

10,3

4,6

October 28th 2020

5h

*Only with 10MHz Bandwidth decoded

# Calculated with Murmur + background temp at given time

Unsuccessful attempts or unclear

B1913+10

13,9

nil

Sept 1st 2020

5h

J1808-0813

8,6

5,9 ?a bit too weak?

November 16th 2020

6h

Better with correct .par file

B1923+04

9,3/10,8

4,7 + 4,7

Too weak?

November 18th 2020

& June 2021

6h

8h

B2224+65

7,8

4,79 ???

January 16th 2021

6h

B1937-26

13,7

5 ?

July 20th 2021

6h

B1845-19

<6

5,7 ??

May 21st 2021

6h

B1900+05

<6

5,4??

May 25th 2021

8h

B1804-27

<6

nil

Oct 27th 2020

5h

B1907+02

<6

nil

November 14th 2020

6h

B1917+00

<6

4,6 ??

November 22nd 2020

6h

B1907+00

<6

6 ???

May 18th 2021

6h

B1940-12

<6

5,9?

May 22nd 2021

6h

B1737-30

<6

nil

October 20th 2020 &

January 2021

4h

Not possible

Too short above horizon and Saggitarius behind

B1900+06

14,6

nil

October 19th 2020

5h

Not possible

to detect with my software